I've gotten a number of questions about the two camps I recently did, so wanted to share some info on the training. Also included is what my coach Justin Daerr has me doing for recovery given that I'll be racing Puerto Rico 70.3 on March 17, two weeks after finishing the two back-to-back camps.
Together the two camps totaled 10 days, during which I did 43.5 hours of swim, bike and run. (I skipped two sessions over the 10 days; both 30min OTB runs.) Not a bad training block. Breakout of duration and distance for each can be found below.
TEAM EMJ VEGAS CAMP
CAMP #1: THURSDAY, Feb. 23 thru SUNDAY, Feb. 26
This camp was organized by Ritch Viola, founder of Every Man Jack and our fearless Team EMJ leader. We had 65 or so of the 70 team members join. Needless to say, it made for a rocking time. Pumped to race alongside these guys in 2017.
Giving what's involved in organizing a group of 65 for a camp, Ritch deligates as much responsibility as he can. A week prior to camp, I learned that my main contribution would be renting and driving a 15-passanger van. This was pretty fun, I must say...
Workouts Provided by Matt Dixon of Purple Patch Fitness Photos/Videos Provided by Talbot Cox (Here's his YouTube page)
All-in-all, I got some really good training in, particularly in the water. I held back a good bit on both the rides & runs knowing that I had a big week ahead, but there was nowhere to hide in the water! I'll also add that training in the Vegas area is surprisingly BEAUTIFUL. Both the Red Rocks & Lake Mead (old Silverman bike course) rides were incredible as was the Lake Mead/Hoover Dam run. Just look at the pics & vids!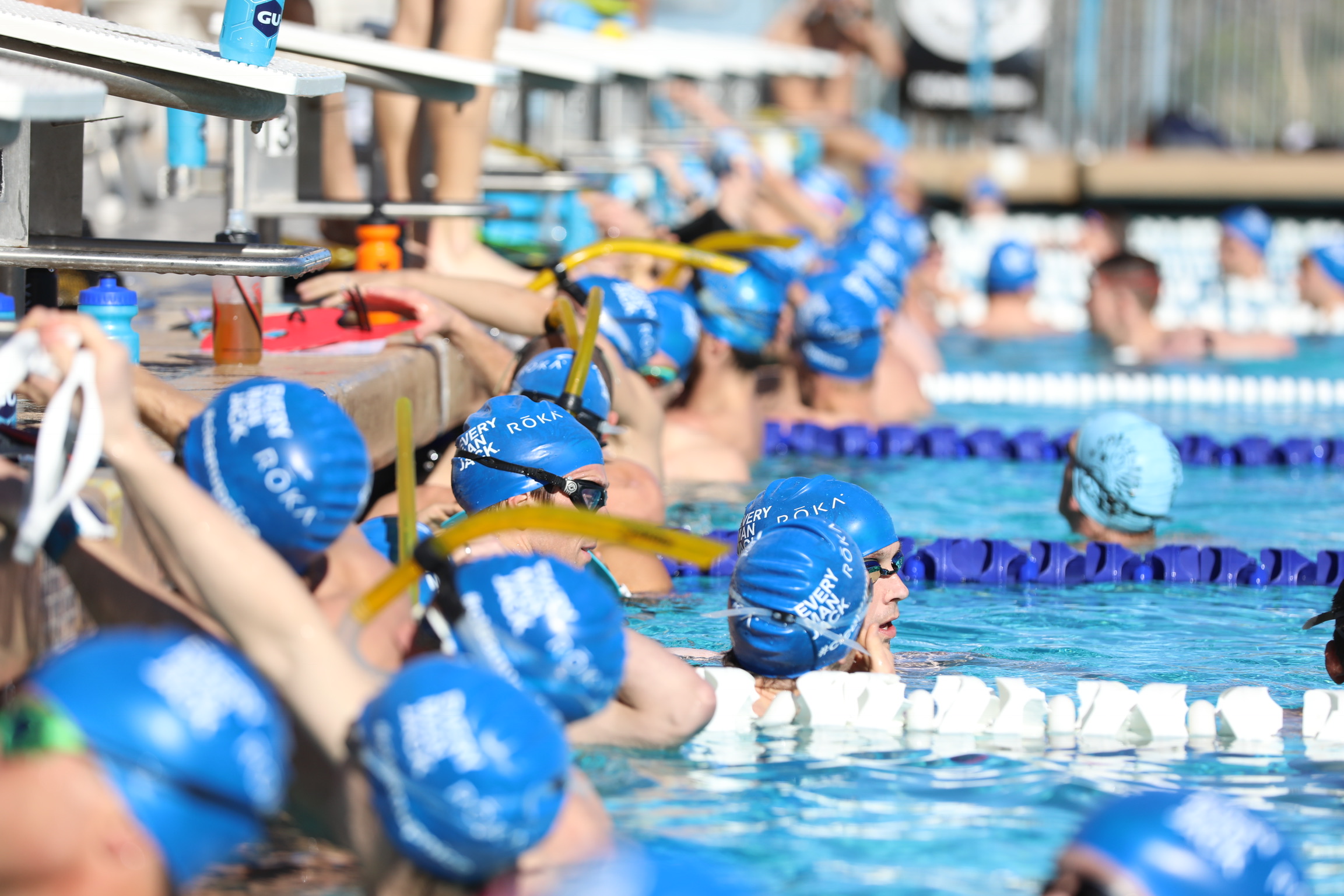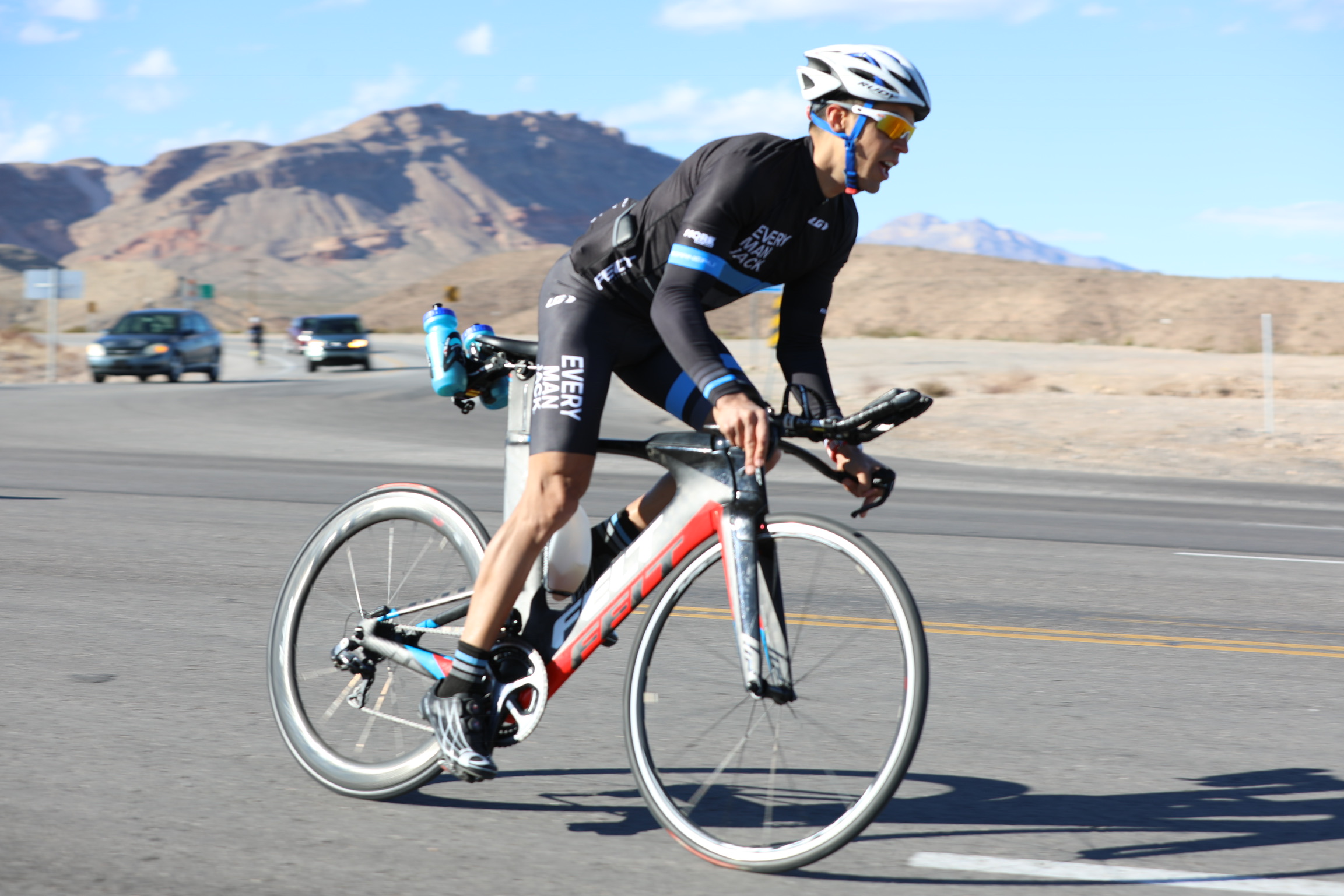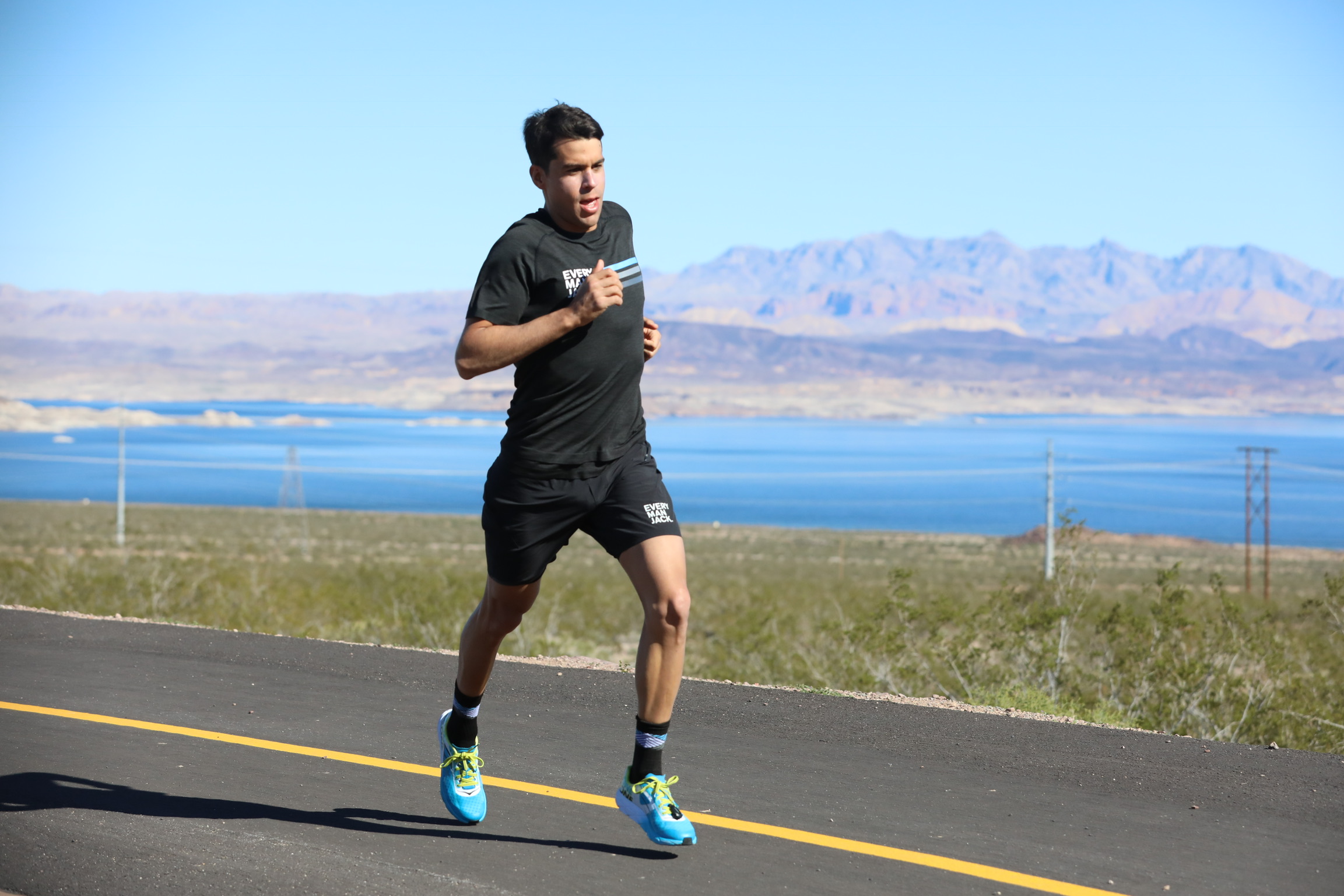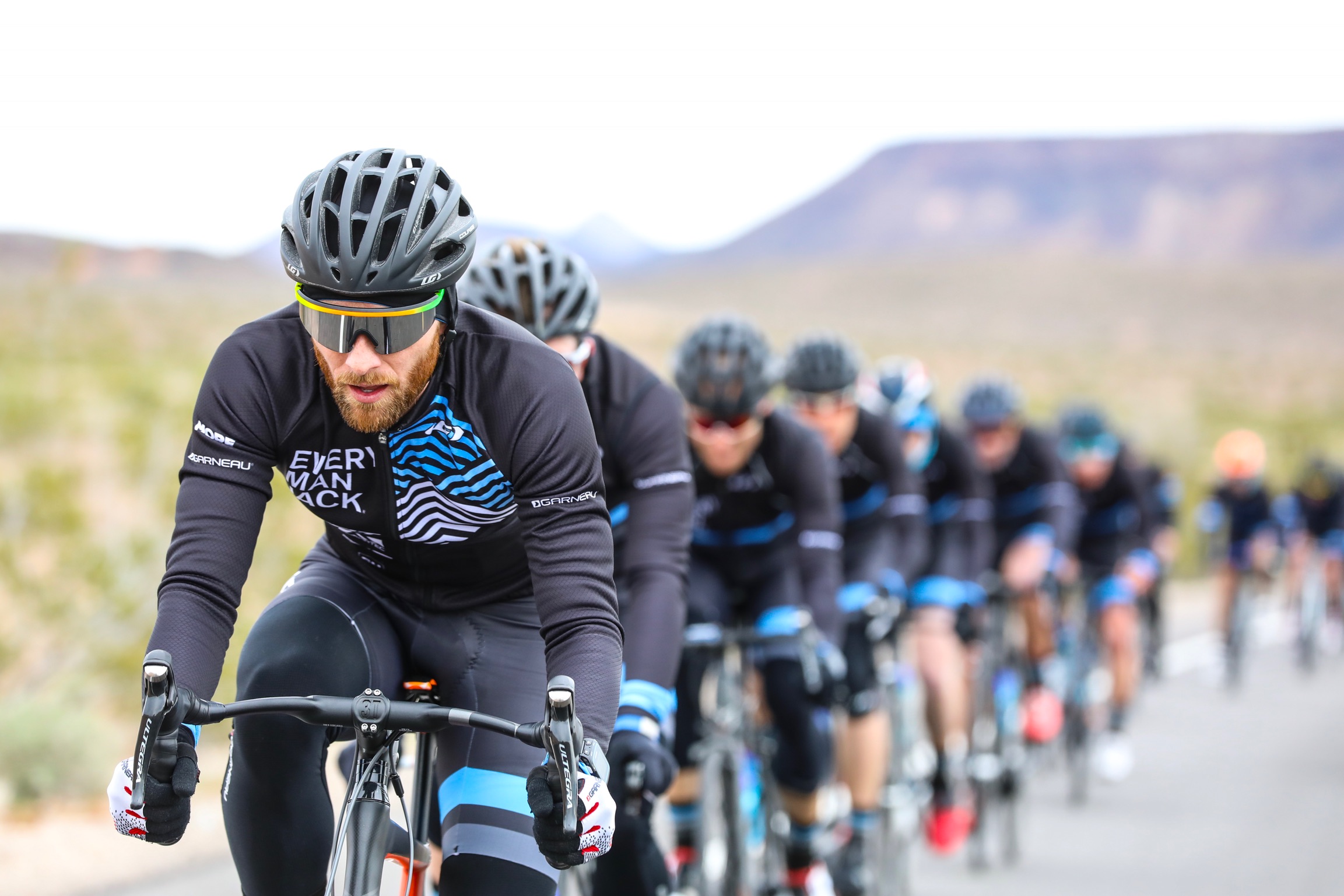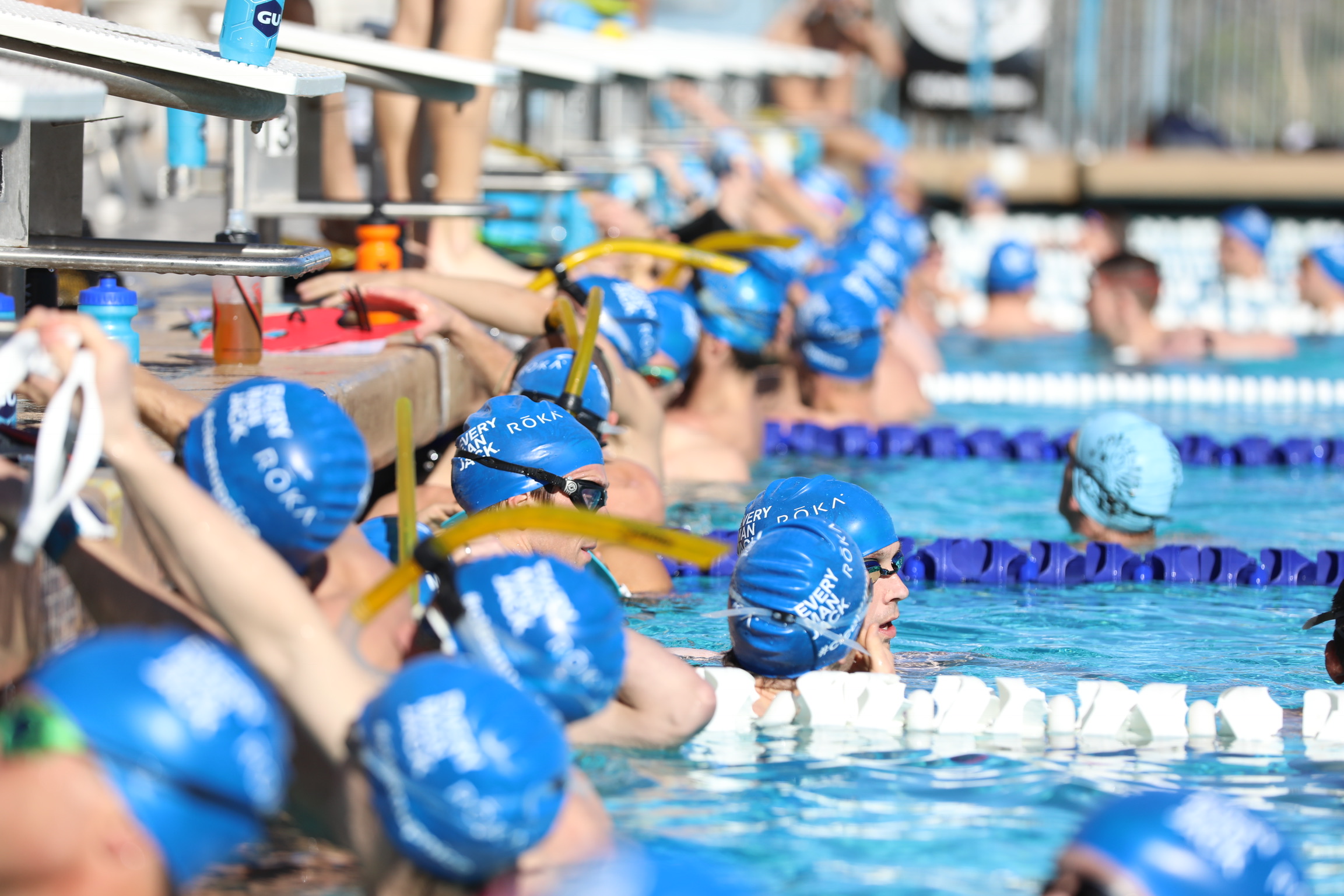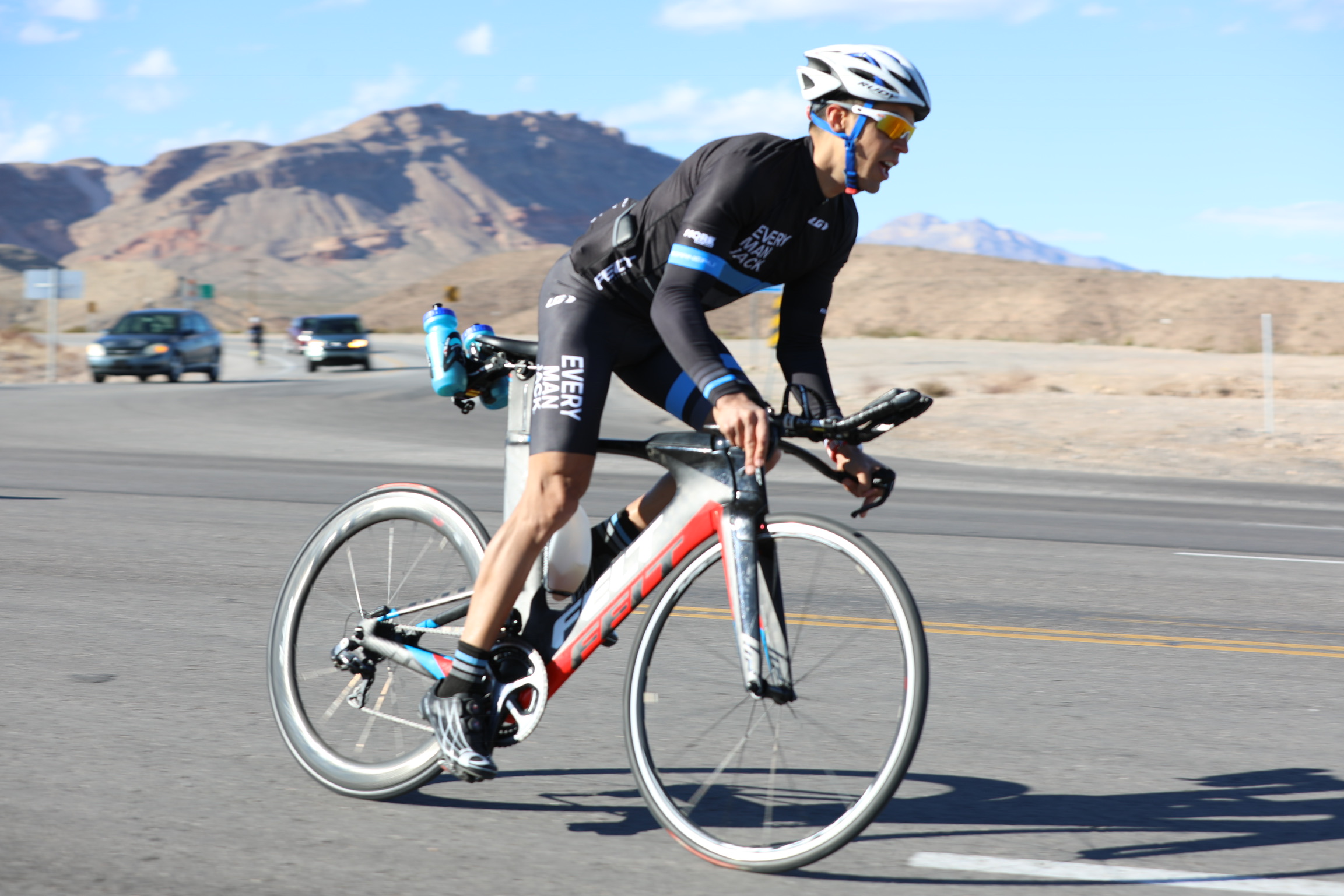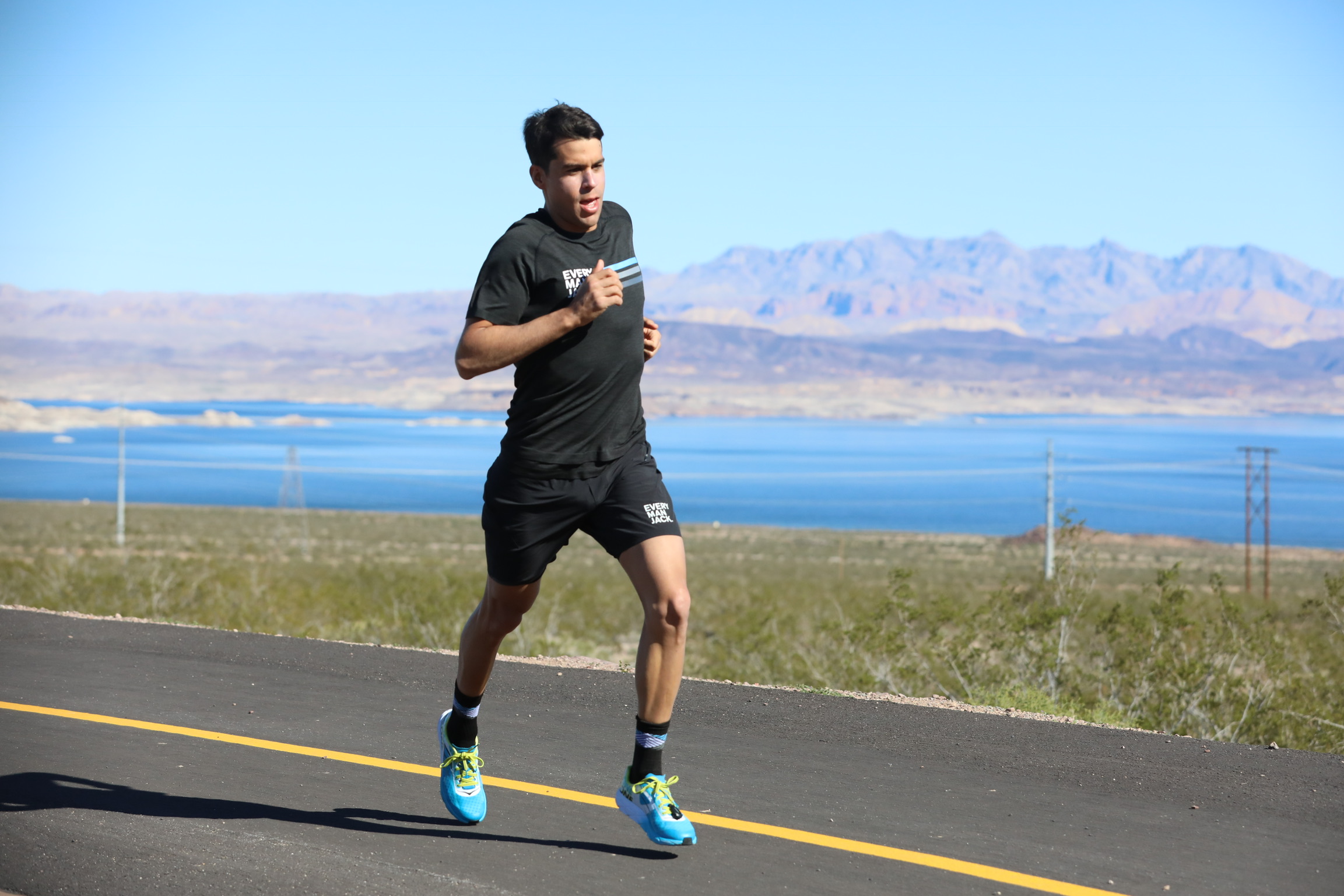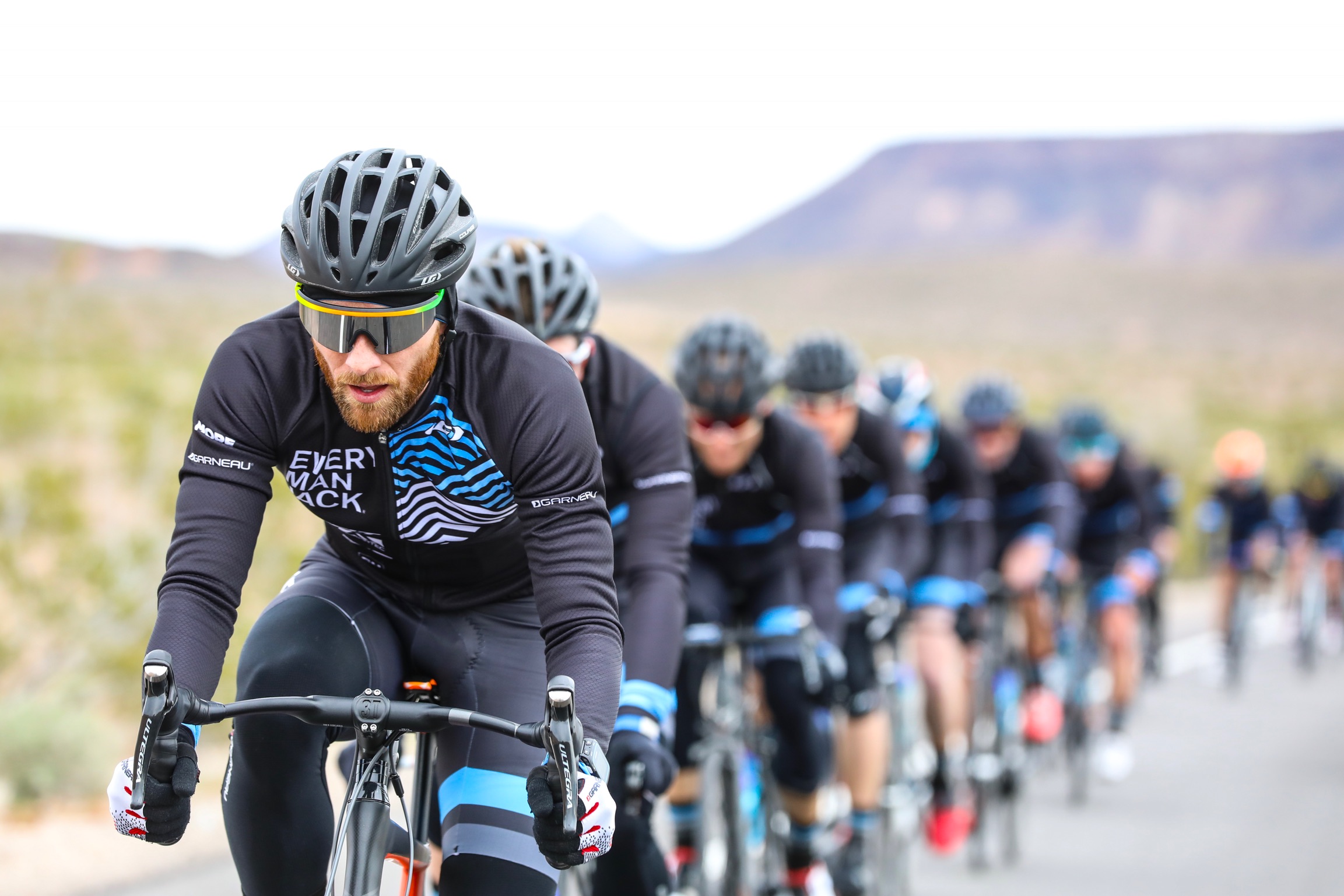 Day 1 - Run, Swim, Bike
6:30AM - Run, Easy 40'
9:00AM - Swim, *Key Session*
WARM-UP - 1000 Easy , 600 Straight Pull, 20 x 50 Paddles
PRE-MAIN - 2 Rounds of 2x 25 FAST, 50 Easy, 50 FAST, 2x 25 Easy
MAIN SET: 8 x 250 as 2 @ 70%, 2 @ 80%, 2 @ 90%, 2 @ STRONG
COOL DOWN: 100 Easy
12:00PM - Bike, 3hr through Red Rocks National Park
Ended up being 3hrs, 58.4mi with ~30' climb @ 205 NP
DAY 2 - Swim, Run, Bike
7AM - Swim, Lower Stress with Speed
WARM-UP: 500 Easy; 600/500/400/300/200/100 Pull on 1' Rest
MAIN SET:
3 Rounds of 4 x 25 MAX effort on :45, 150 at 80%
Then, 18 x 100 as:
1 on 1:30, 1 on 1:25, 1 on 1:20
1 on 1:30, 2 on 1:25, 1 on 1:20
1 on 1:30, 3 on 1:25, 1 on 1:20
1 on 1:30, 4 on 1:25, 1 on 1:20
COOL DOWN: 100 Easy
10AM - Run, *Key Session* - 1hr 30min @ Lake Mead / Hoover Dam
30' easy, 30' steady, 30' tempo
I slightly adjusted doing 60' relaxed, then 3 miles at ~6:30/mile pace
TRAINING PEAKS LINK FOR THE DATA GEEKS
1:45pM - Bike, ~2hr Recovery Spin
DAY 3 - Bike, Run
7AM - Bike, *Key Session* - 85 miles @ Lake Mead / Silverman Course
5 x 7' (5' easy) @ STRONG effort, varying RPM (50, 60, 70, 50, 60)
I ended up doing 2 hrs @ 210NP (mix of HIM & IM effort), basically just trying to stay with a group. Some guys were BLITZING this ride.
TRAINING PEAKS LINK FOR THE DATA GEEKS
2PM - Run, OTB 30' (I BAILED ON THIS...)
I was pretty smoked after this ride and didn't want to push my luck given the long week ahead.
Day 4 - Swim, Run
7AM - Swim, *Key Session*
WARM-UP: 500 Easy; 200/175/150/125/100/75/50/25 building
MAIN SET:
4x25 MAX effort w/ paddles on :30, 500 buoy+paddles @ 70%
3x50 MAX w/ paddles on 1:00, 500 buoy+paddles @ 70%
2x75 MAX w/ paddles on 1:30, 500 buoy+paddles @ 70%
1x100 MAX w/ paddles on 2:00, 500 buoy+paddles @ 70%
COOL DOWN: 100 Easy
9AM - Run, 4 x 2.5 mi loops
Loop = 1 mile uphill (+3%), 1 mile downhill (-3%), .5 mile flat
1 mile steady up, 1 mile steady down, .5 mile recovery
EC TUCSON CAMP
CAMP #2: MONDAY, FEB. 27 Thru SATURDAY, MAR. 4
This camp is one I've done three years in a row now. It's put on by Endurance Corner and provides fantastic training with an awesome crew of 20 or so athletes. There are people who I consider close friends who I met through the camp and only see during these seven days each year. Again, it's a great group. Always fun to be back hanging and training with my coach and good bud Justin Daerr too. (If interested in EC camps, you can enter your info here and stay looped in. They really do a great job with these camps, so I want to be sure to pass the recommendation on!)
Before diving in, I'll say that I was pretty tired when I arrived on Sunday night. Given that I've done this camp a few times now, I left dinner a bit early to get my bike sorted after the travel and to make sure I got to bed around 9pm. I know sleep is critical for me with big training volume, so I made it a priority. I woke up Monday feeling great after about 9hrs of shut-eye.
Thanks to Jeff Fejfar for many of the pictures below!
Day 1 - Run, Bike (with 10k TT), Swim
7AM - Run, Chill 50'
9:30AM - Bike, Easy with a Hard 5.75 TT on Misison Road *Key Session*
This TT makes for a great check-in on my fitness at the start of each season. Given that I've done this camp three times now, I can go back and look at my power across this 5.75 mile stretch and compare. (Time isn't worth looking at given the changes in the wind, but it is fun to look at average watts.)
Here's a look at my power from year-to-year:
2017 - 251 Av Power (3.83 W/kg) - 19:47 (TrainingPeaks Link)
2016 - 237 Av Power - 18:20
2015 - 231 Av Power - 20:21
This year I came into camp in good shape, but was obviously carrying some fatigue from Vegas. I was hoping to hold 260 (magic 4.0 W/kg), but was still cool with 251 given the lead-up. In 2016, I came into camp in pretty lousy shape after just getting back into training in late January after a long stretch off. In 2015, I was a total newbie but had made some big gains since getting serious about training in Nov. 2014. My weight is the same as in 2016. In 2015, I was likely ~5 lb lighter.
2:30PM - Swim, "Recovery"
I found myself in the wrong lane for this "recovery swim" and was tasked with 3 rounds of 6x100 on 1:20 followed by a 400 pull set on a similar sendoff. Needless to say, I tossed on fins for the 100s and gave the 400s everything I had.
Day 2 - Bike, Run
8AM - Ride, 95+ Mile with Climb Up Madera Canyon *Key Session*
This was a tough day on the bike. My legs were feeling a bit fatigued, but I started to come around about an hour into the ride. I rode Madera by feel, keeping things fairly mellow, and ended up with 215NP as my power for the 1hr 6min climb.
Madera Canyon is just over 13 miles and averages a 3-4% grade. That's a bit deceiving though since the first 10 miles are ~2% and then shit gets real around mile 10, with an average grade of 8% for those final 3 miles.
TRAINING PEAKS FILE HERE FOR THE DATA GEEKS
After the climb and descent, my legs were toast. Never fun riding 40+ miles home like that, but thankfully I caught a ride on the Daerr Express for the bulk of the final 20 miles or so on Mission Road.
4PM - Run, 30' Off the Bike Steady
Ended up being 4.41 miles at 6:39/mile pace.
Day 3 - Run, Swim, Bike
7:00AM Run, Tumamoc Mountain
I took it easy on this one. More of a hike than a run given the average grade of Tumamoc Mountain in over 10%.
9:30AM Swim, Including Two 400TTs, *Key Session*
I was definitely feeling the volume during this swim session. We did a solid 20' build and then launched into the 400TT. I swam 5:15 for this, averaging 1:19/100. Not my best work. Normally I'd want to be 1:16/100 for a test set like this. The second 400TT was 5:19, so 1:20/100. Again, not the best, but it was the best I had in me.
2:30PM Bike, Gates Pass & 2x McCain Loop
This is tends to be a pretty chill ride. Really meant to be active recovery. I pushed the pace a bit at times, but made sure to check myself given that we had Mt. Lemmon the next day.
Ended up being 36.7miles and a little over 2hrs at 193NP. Not a huge effort but not easy either.
Day 4 - Bike, Run
8:30AM - Bike, Including 21 Mile Climb Up Mt. Lemmon *Key Session*
Similar to the TT, Mount Lemmon always serves as a good check-in on fitness. I've ridden Lemmon 2 previous times at camp and rode it last year in September, a month prior to racing Kona when my fitness was rocking.
For this go-'round, I decided to really go for it and put aside the fact that we had two more days of camp. Even though it wouldn't be apples to apples, I wanted to see how my power would compare to this past September when I rode 220 NP for the 2hrs up Lemmon.
So, I decided to sit on Justin's wheel for as long as I could. I knew JD wasn't going to attack it knowing that I was trying to ride in his draft, but he was definitely going to push hard enough to make me dig deep. This was exactly what I needed. My man Jimmy, also coached by Justin and a very solid cyclist, was in the same boat.
5 minutes into the ride I could tell it was going to be a sufferfest. My watts were 230 and it was pretty clear that Justin was going to keep this pace for the next 2 hours. I started just focusing on each mile, one at a time. 30 minutes in, I started focusing on just lasting a minute longer.
Just over the 1 hour mark (mile 11), I popped. Mentally I had a lot invested in making it halfway with Justin and Jimmy, and I was content to give in at that point. Watts were 228 and I was toast. From there, I rode the next 10 miles solo to the top at just under 200 watts. At the top, I barely had the energy to stand or talk. I simply ate a few bars and put on warm gear for the descent. While this was a good bit off from the biggest power that I've pushed for an hour, I think it's the deepest effort I've given for an hour on the bike.
Final NP was 215 for 2hr 14min. TrainingPeaks File Here. (Note that I had to stop mid-ride after launching my phone at one point.)
5:00PM - Run, Easy 30-45 minutes
I opted for a Illegal Pete's visit (for the uninitiated, this is an awesome burrito shop) and a nap. I was f'ing destroyed after the ride.
Day 5 - Run, Swim
7AM - Run, 11 miles on Starr Pass/Ferris Loop *Key Session*
Justin told me to run with him, so I did. I felt like shit for the first 2 miles, as is often the case with all my runs in a big training block, but started to feel good about 15 minutes in.
The run was more or less 5-6 miles up, and 5-6 miles down. We averaged exactly a 7:00/mile pace for the 11.5 miles.
10AM - Swim, Some Speed Work
I only vaguely remember this. Must have been pretty tired. Seem to recall a good number of 50s on a solid rest.
Day 6 - Bike
8:00AM - Bike, 110 miles w/ 12 mile Climb Up Kitt Peak *Key Session*
This is always a tough ride. Typically there's a headwind for the 40+ miles on the way out, and that's just getting to the 12 mile climb. Thankfully this year the headwind came with just ~15 miles left in our ride out to Kitt. Even still, I was struggling a bit.
We reached Kitt after 2.5hrs and got right down to business. I started riding again with Justin and Jimmy, but after 15 minutes of 230 watts again, I pulled the pin. If we had been doing this 10 or even 20 miles from home, I would have given it a go. But given that at the top of Kitt I'd be 55 miles from the end of the ride, I didn't have the stomach to blitz another climb. I backed off and rode by feel, which landed me at 202NP for about 1hr 30min.
Even with the somewhat relaxed effort up Kitt, I struggled for the 2+ hour ride home. Thankfully we had a tailwind. By the time we got back to the hotel I was smoked.
Recovery Prior to Puerto Rico 70.3
I'll be racing Puerto Rico 70.3 on March 17, two weeks after these two camps. This means it's important to not only recover from the camps and "absorb" the fitness, but also dial in intensity to align with the efforts I'll put out on race day. Thankfully Justin is in charge of this; I just do what he says!
FIRST WEEK Following Camp
As Justin and the other coaches explain, it's important to take it easy in the days following camp, but also important to stay moving. If you fully shut things down after a big training block, the body reacts poorly.
For me, Sunday was off given travel. Monday - Wednesday were pretty easy with training. Starting to build back some swim volume each day, with a 1 hr trainer ride on Wednesday that included 10 x 30" on / 60" off after a long warm-up.
Thursday I started to get back in the swing of things with a 70-minute run that included 5 x 9:30 run/:30 walk @ sub-160 HR. Friday was a full 1hr 15min in the pool at Tower 26, which is always a tough session. (We did 6 Rounds of 100 @ Max Effort on 1:30, 300 @ 70% on 4:30. Ugh.)
Saturday & Sunday were as usual the week prior to a 70.3. Saturday was swim (1hr 15min; lots of 175s), bike (3hr; pretty chill), run (15 min; steady) and Sunday was a hard 2.5hr on the trainer with 15-20 minute blocks at HIM effort followed by OTB run (35min; 2 Rounds of 2k@6:00/mile, 1k@7:00/mile).
Second Week Following Camp
It's looking like a standard 70.3 taper week.
Monday - 1hr swim, 45min easy ride
Tuesday - 1hr 15min swim, 1hr ride with 10x30"/60", 3 miles OTB
Wednesday thru Saturday - 30min swim, 30min ride, 25min run
Sunday - RACE!